It is not uncommon for businesses in today's global economy to engage in international transactions. More often than not, these transactions require an exchange of business and/or legal documentation. Although these documents are signed and exchanged by those who have been engaged in business together, there are times when the documents must still be authenticated in order to be used in a foreign country from which the document originates.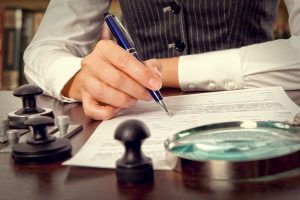 The Hague Convention of 1961 established a certification to authenticate documents to be used in foreign countries. This certification is known as an apostille. The apostille is attached to the document that is being sent overseas and it certifies the authenticity of the signature of the documents; it does not actually certify the contents of that document. The apostille is required to be used by a designated verifying authority in a country party to the Hague Convention.
Apostille Requirements
Apostilles are required to be authenticated by different authorities depending on the agency issuing the document. A United States federally-issued document must be authenticated by the United States Department of State. These include those documents that have been signed by:
S. Federal Official;
An American Consular Officer;
A Military Notary, Judge Advocate (10 USC 1044a), or a foreign Consul diplomatic official registered with the State Department Office of Protocol
State-issued documents must comply with the apostille requirements of the Hague Convention but must not necessarily be signed by someone at the United States Department of State. Instead, each state is free to set its own convention-compliant rules and procedures for receiving an apostille. It is important that businesses seek the advice of an experienced Silicon Valley business attorney that can assist the business in assembling the documentation and information for the apostille.
The apostille, under a header which says "APOSTILLE, Convention de La Haye du 5 Octobre 1961," includes the following information:
Name of Country Issuing the Apostille;
The name of the person who signed the document;
The capacity in which the person signed the document;
Certified by the Issuing Authority
Place of Issuance;
Date of Issuance;
Name of Issuing Authority;
Registration Number;
Stamp of issuing authority;
Signature of the representative of issuing authority.
Contact Structure Law Group Today to Schedule Your Consultation
Apostilles are required in order to use certain documentation in a foreign country; it is required for use in a country that is a signatory to the Hague Convention. In order to ensure that your business documentation is properly authenticated, you should seek the legal advice and counsel of a skilled business attorney. Our team of business attorneys at Structure Law Group will work closely with your business to meet all of your authenticating needs. Schedule your consultation with one of our experienced business lawyers by calling our office at 408-441-7500.