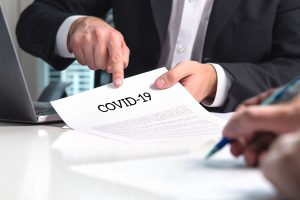 Running a business is complicated in the COVID era, especially if you run a business in California. After California reopened its economy in June 2021, employers have had to make sure they comply with all applicable state laws, local ordinances, and rules to stay open and avoid hefty fines.
Below we have highlighted some of the most significant COVID-related employment laws that apply to businesses and employers in California in 2021.
AB 685: COVID Reporting Requirements
Effective January 1, 2021, Assembly Bill 685 (AB 685) changed the law to require California employers to notify workers within 24 hours that a coworker tested positive for COVID. Under the new law, employers must provide written notice of all COVID-19 cases at the worksite within one business day.
AB 685 also permitted the California Division of Occupational Safety and Health (Cal/OSHA) to shut down worksites or worksite areas when there is evidence of exposure to COVID-19 to protect employees from an imminent hazard. In addition to providing notice of potential exposure, employers must also notify employees of the following:
What COVID-related benefits and protections their employees are entitled to; and
What safety measures will be taken by the employer at the worksite to respond to the potential exposure to COVID.
Under AB 685, employers are also required to report any COVID-19 outbreaks to local public health agencies within 48 hours of learning about the outbreak. The law defines an "outbreak" as at least three confirmed positive cases of COVID among employees within a 14-day period.
The new law requires California employers to maintain records of written notifications for at least three years. Employers can face a fine of up to $10,000 for failing to submit information about confirmed COVID cases or intentionally providing false or misleading information.
COVID-19 Prevention and Testing
In June 2021, Cal/OSHA revised its emergency regulations for COVID prevention and testing. The temporary regulations require all of the following:
The development of worksite-specific COVID prevention programs
The requirement to provide effective training and instruction to employees
The requirement to make free COVID-19 testing available for employees who are not vaccinated against the coronavirus disease and either have COVID-related symptoms or were in close contact with a confirmed case
The requirement to inform unvaccinated employees that they have a right to receive a respirator and use it voluntarily
Under the revised regulations, physical distancing is only required for unvaccinated workers and during COVID outbreaks at the worksite.
SB 1159: COVID-19 Workers' Compensation Presumption
Under SB 1159, there is a rebuttable presumption that any confirmed cases of COVID-19 of employees arose out of and in the course of employment to ensure that employees can obtain workers' compensation benefits. The presumption applies to:
Peace officers
Firefighters
Rescue coordinators
Some healthcare professionals
If you run a business in California, speak with an employment lawyer in California to find out what steps you need to take to ensure legal compliance with all COVID-related laws and regulations. Contact our California employment attorneys at Structure Law Group, LLP, to receive a case evaluation. Call (408) 441-7500 or fill out our contact form.