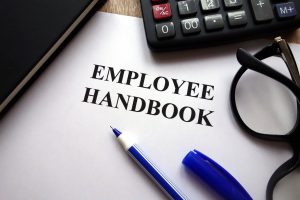 Employee relations can create complicated legal issues for any California company. Hiring, daily operations, performance reviews, and termination all create situations in which your company or your employee may face impaired legal rights. By clearing stating each party's rights and responsibilities in a written document that is freely available to all employees, your company can reduce the likelihood of legal disputes. The experienced employment attorneys at Structure Law Group have helped many California companies reduce their employment liability by writing employee handbooks. Call (408) 441-7500 to schedule your consultation today.
Here are three common mistakes employers make when drafting an employee handbook:
Not updating it to reflect changes in employment law.
California has some of the most dynamic employment laws in the entire United States. Every year our legislature enacts new laws, and many of these will affect Silicon Valley businesses directly. For example, the hot topic of 2019 has been extending employment protections (such as minimum wage guarantees and sick leave) to contract workers. NPR reports that these changes are almost directly targeted toward Uber, Lyft, and other applications that connect service providers with customers. If these changes are approved by the California Legislature, tech employers will have to be sure their policies conform to new laws. They can help reduce potential liability by updating written employment policies to reflect the employer's compliance with new laws clearly.
Using boilerplate clauses or templates.
Some employers – especially smaller companies with few employees – try to save on legal costs by simply using forms or templates to create their employment manuals. This opens them up to a wide range of potential liability. Forms do not cover the specific needs of a particular employer. There are many potential legal issues that could impact your company, and it is critical that your employment manual covers all issues relevant to your particular business.
Applying policies inconsistently.
This is one of the easiest ways to face claims of discrimination or wrongful termination. If disciplinary policies are applied inconsistently, it is easier for employees to claim they were discriminated against or terminated on a legally-prohibited basis, such as race or gender. The first step toward remedying this problem is to write clear policies that apply equally to all employees directly into your company's employee handbook. Your human resources staff then has a clear guide by which to enforce these policies equally and prevent claims of discrimination or termination in employment.
Call Us Today to Schedule a Case Evaluation with a Silicon Valley Business Attorney
There are many employment law issues facing any business owner. It is important to consult with an attorney before hiring employees. Proactive steps can limit the potential of legal liability for you and your business. Call Structure Law Group at (408) 441-7500 or contact us online. Our experienced employment lawyers work with business owners in Palo Alto, San Jose, Silicon Valley, Sacramento, San Francisco, and Los Angeles. We can help you establish employment policies that will protect yourself, your employees, and your business for years to come.