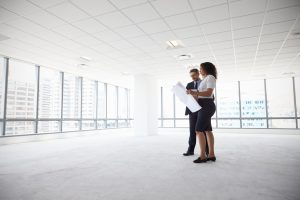 Structure Law Group LLP's California real estate attorneys can provide you with top-grade professional representation and guidance in real estate transactions. SLG's attorneys work with investors, brokers, landlords and tenants in a wide range of matters including acquisitions, leases, transactions, financing, and tax planning.
Here are a few things to keep in mind when dealing with California's commercial real estate market.
Tips for Buyers
Investing in commercial real estate can have many incentives – there's significant tax benefits, it's a hedge against inflation, a great source of income, and appreciates in value. However, California law regarding commercial real estate transactions is complex, therefore having the right representation is important.
As a buyer, you should do thorough due diligence in inspecting a commercial property prior to buying. Additionally, you need to carefully examine the property's legal status to ensure there are no outstanding liens, third parties that might have a previously undisclosed interest, and possible encroachments on the property.
Another key consideration is setting up a legal entity to acquire the property. Most buyers do not purchase commercial real estate as an individual because it has the possibility of exposing the buyer to personal liability. Instead, buyers enter into the transaction as a business entity such as a limited liability company. Acquiring a property through an LLC can protect the buyer from personal liability, such as protecting the property from creditors against the individual members of the LLC. Furthermore, an LLC can provide tax advantages, estate planning benefits, and anonymity. You and your attorney need to carefully review these options to determine what will be the best fit in terms of minimizing your legal and tax liabilities.
Tips for Sellers
The first step before any commercial real estate transaction is to obtain a professional valuation of the property. Additionally, you will need to obtain a current title report and any necessary environmental reports on the property.
California law requires a seller to disclose to the buyer any material information regarding the property that could affect the potential buyer's transaction which can pose a risk to the buyer's safety or health, or adversely impact the property's value. Failure to disclose such pertinent facts can expose the seller to liabilities.
Tips for Ownership
An important operational concern for commercial real estate investors is managing tenant relationships. It is imperative that landlords properly screen potential tenants. For example, screening involves examining their rental history and scrutinizing their finances to assure they have funds to pay.
There are specific duties that all landlord and tenants must abide by. Such duties consist of implied warranty of habitability, implied covenant of quiet enjoyment, and duty not to commit waste. Breaching a duty can expose the landlord or tenant to severe liabilities under California law.
Our California Real Estate Attorneys Can Help You Be Successful
The one thing you should never do is enter into any commercial real estate transaction without proper legal counsel. There are simply too many factors to consider, even in the "simplest" transaction. Working with a qualified real estate attorney can help significantly reduce your own workload as you are faced with countless tasks that arise in the course of a commercial property transaction.
If you need to speak with a California real estate lawyer today, call SLG today at (408) 441-7500 or contact us online to set up a consultation.