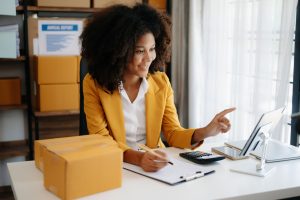 Many people nowadays are buying various goods online, which makes e-commerce businesses very attractive ventures for individuals all over Texas. When a person is considering starting their own e-commerce company, they will want to be sure they are working with trusted Austin, TX e-commerce attorneys.
In general, an e-commerce business will be a company operating either in full or in part over the internet that generates most of its revenue from online transactions. Licensing is one major concern for most e-commerce companies.
Basic E-Commerce Checklist
The first thing a person needs to decide is how they want to structure their business. Common business structures may include sole proprietorships, partnerships, limited liability companies (LLCs), S corporations or C corporations, and nonprofit organizations.
A person then must file the appropriate formation documents with the Texas Secretary of State. The SOSUpload System on the Texas Secretary of State website allows people to upload certain documents required to create new business entities.
Choosing an available unique business name will be the next important step. A person should also ensure there is a matching domain name available for the desired business name and determine whether they need to register any forms of intellectual property.
Seek a federal Employer Identification Number (EIN) from the Internal Revenue Service (IRS). You can apply for an EIN online when your principal business is located in the United States.
You will then want to speak to an Austin, TX e-commerce lawyer about whether you will need to obtain certain permits or licenses.
Licensing Issues
An e-commerce business in Texas will need to know whether there are any local city or county permit requirements. An e-commerce business is often run online from a person's home and may require a home occupational permit.
Depending on a person's particular area, there could also be restrictions on activities allowed for home-based businesses. Texas does not have general business licenses but uses different regulatory licensing boards relating to specific kinds of businesses.
In addition to licenses and permits for food and beverages, there can also be occupational permits for such services as child care, health, and funeral services. When an e-commerce business plans to sell such items, it may need to apply for specific permits and licenses.
Another license an e-commerce business could require is a sales tax license. Most any kind of business selling taxable goods or services in Texas must have a state sales and use tax permit. Although e-commerce businesses often sell products online to customers all over the country, they will also sell to people in Texas, and a tax permit thus becomes necessary.
To apply for a Texas sales tax permit, an e-commerce business owner must:
Be at least 18 years of age
Provide their social security number and the social security numbers of any other partners, owners, or directors affiliated with the e-commerce business
Fill out a registration file number assigned to them by the Texas Secretary of State when they register the company
Provide the code required for all businesses and assigned by the North American Industrial Classification System (NAICS)
Complete form AP-201, Texas Application for Texas Sales and Use Tax Permit
File all information in person, via fax, or through Texas's online eSystem
Call Us Today to Speak with Austin, TX E-Commerce Attorneys
If you are considering starting an e-commerce business in Texas, be sure that you are taking all of the proper legal steps to protect yourself. You will want to be working with Austin, TX e-commerce lawyers who understand the requirements and can help walk you through the entire startup process.
Are you ready to take your business to the next level? At Structure Law Group, LLP, our Austin, TX e-commerce attorneys have the knowledge and experience to help you launch or manage your online business. We provide personalized, comprehensive counsel to clients all over the state. Whether you need to establish your business structure, secure intellectual property protections, or just better understand the legal implications of e-commerce, we are here to help. Let our team of experienced attorneys guide you through the process. To get started, simply call (512) 881-7500 or contact us online to schedule a consultation.