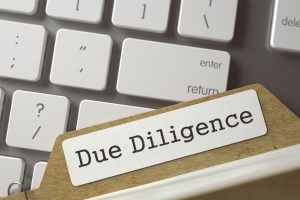 Selling your business can be an exciting time. An acquisition can represent a new stage of growth for a company. However, a poorly drafted acquisition agreement can also jeopardize the legal and financial interests of business owners who do not adequately prepare for such an event.
What Issues Should Be Studied During the Due Diligence Process?
Each business is different, and every merger or acquisition requires a host of critical issues to be examined by both buyers and sellers.  Here are some – but of course not all – of the issues that must be addressed:
Financial Matters
Examining a company's financial position is far more complex than a simple review of assets and liabilities. Proper financial due diligence must verify the authenticity of the numbers contained in a company's financial statements and the assumptions on which the company's financial projections rely. Moreover, if the target business has never been audited by an outside accountant, the due diligence period may be the time to do so. Whether you are buying or selling a company, you need an experienced accountant do conduct proper financial due diligence on the company being sold, in addition to having an experienced legal counsel to conduct legal due diligence.
Legal Due Diligence
Although most business owners initially focus on the financial condition of a company, legal due diligence is a key component of any merger or acquisition.  If you are buying a company, during legal due diligence, your attorneys will review the target company's agreements with employees, vendors, customers, and others to identify restrictions and vulnerabilities, among other things, to protect the buyer's interests and to provide a predictable transition upon closing of the sale.  If you are selling a company, you will be required to make representations and warranties about your company, and an experienced M&A attorney will identify issues about your company prior to the sale, and will prepare the transaction documents to minimize your continuing liabilities to the buyer of your company after the transaction closes.
Technology and Intellectual Property
For most technology firms, intellectual property is the most valuable asset of a business. Often, a company's IP is the only reason it is being considered for acquisition. The due diligence process must ensure, among other things, that a company's valuable IP actually belongs to the company. It must be free of legal claims, such as copyright infringement or patent violations. Moreover, having open source software incorporated into a company's IP can sometimes impact the ownership rights of the IP that the company itself created.  Issues with a company's IP are typically uncovered during legal due diligence and a well drafted acquisition agreement will protect both the buyer and the seller of a company, considering the issues discovered during legal due diligence.
Contracts, Commitments, and Legal Liabilities
A target company can have a myriad of liabilities. A company's financial liabilities comprise only a subset of the liabilities that must be considered. Agreements with vendors, customers, employees, owners, lenders, business partners, and others can create legal liabilities that ultimately becomes the buyer's responsibility after the transaction is completed. However, certain legal liabilities can also remain with the seller of a company depending on how the acquisition agreement is drafted.  Legal liabilities come in many forms and can be expensive to resolve if not accounted for at the outset.   Proper due diligence is essential to protect the interests of both buyers and sellers of a business and to avoid hidden liabilities that become expensive and cumbersome to later resolve.
Call Us Today to Schedule a Consultation with a Los Angeles Business Lawyer
Without proper advice and well drafted transaction agreements, you may be exposed to losses and liabilities after buying a company, or selling one.  If you are considering buying or selling a business, having experienced counsel at your side from the outset is essential to protect your interests.  We are here to help and to guide you at every step of the process. Speak with an experienced Los Angeles business attorney today by calling (310) 818-7500 or contacting us online.