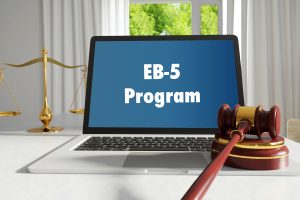 The EB-5 program is a citizenship program that was established in 1990. It was designed to stimulate the American economy by attracting foreign nationals to work and invest in the United States. The EB-5 program can benefit employees and investors by creating a path to obtain citizenship. It can also benefit businesses by allowing them to act as "regional centers" that offer investment opportunities in new commercial areas.
Qualifying Employees for the EB-5 Program
The path to citizenship for individuals is usually based on either (1) a family relationship with a U.S. citizen or lawful permanent residence, (2) humanitarian grounds such as asylum, or (3) employment status with a company engaging in business within the United States. Within the employment category, there are many different options for visas and citizenship. The EB-5 program is designed for investors, not employees, but there are many other options for obtaining lawful immigration status for your employees. Visit the USCIS website to learn more about employment visas for your workers.
Qualifying Investors for the EB-5 Program
Foreign nationals can become U.S. citizens as investors under the EB-5 program if they (a) make the necessary investment (currently $1 million) in a new commercial enterprise in the United States, and (b) plan to create or preserve ten permanent full-time jobs for qualified U.S. workers.  These investments must be in a "new commercial enterprise," which is any for-profit activity formed for the ongoing conduct of lawful business. The EB-5 program also gives incentives to invest in areas with high unemployment rates. In these targeted employment areas (TEAs), the minimum investment requirement is lowered to $500,000.
Qualifying Your Business for the EB-5 Program
The EB-5 program also allows American businesses to be designated as "regional centers," which can offer investment opportunities in new commercial enterprises. Job creation is a critical element of the EB-5 program. Because of this, each foreign investor's capital must help the commercial enterprise create ten full-time jobs for U.S. workers.
2019 Changes to the EB-5 Program
The EB-5 program was recently updated. The following changes went into effect in November 2019:
To account for inflation, the standard minimum investment amount has been increased from $1 million to $1.8 million.
Minimum investments in TEAs have also increased, from $500,000 to $900,000.
Future adjustments will occur every five years and be connected to inflation as measured by the Consumer Price Index.
The updated rule also removes certain TEA designators and clarifies USCIS procedures for the removal of conditions on permanent residence. It is important to consult with a business lawyer about these changes and how they will affect your business.
Silicon Valley EB-5 Attorneys Serving Your Company's Immigration Needs
The experienced business lawyers at Structure Law Group know how to resolve business immigration issues. Let us help your employees and investors obtain lawful immigration status so your company can continue engaging in profitable business operations. Call (408) 441-7500 or visit our website to schedule a consultation.