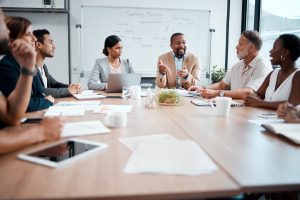 In July 2022, CNBC ranked Texas within the top 5 states in the country for business based on 88 metrics in 10 different categories of competitiveness. Texas scored high in areas like workforce, technology and innovation, and the economy. While this is an exciting time to be doing business in Texas, employers must stay current on federal and the state labor and employment laws at the forefront of their mind to avoid costly penalties.
If you are looking for an employment lawyer, look no further than Structure Law Group, LLP. Our Texas attorneys can help you overcome your company's workplace challenges and navigate a wide range of employment issues.
At-Will Employment
Texas is an "at-will" employment state, which means employers can terminate their employees at any time without reason, explanation or prior warning, so long as the termination does not violate state and federal anti-discrimination laws. Similarly, an employee can quit their job without providing their employer with a reason or prior notice.
Most Texas employees are hired at-will, and without an express agreement (such as an employment contract) an employer can change the terms of the employment at any time without consequences. For example, the employer has the ability to alter wages, terminate benefits, and reduce an employee's paid time off.
The National Conference of State Legislatures (NCSL) notes three common law exceptions to the at-will presumption: (1) matters of public policy, (2) implied contract, and (3) implied covenant of good faith. Public policy issues can include refusing an employer's request to commit perjury at a trial, reporting fraudulent accounting practices by an employer or its use of child labor, joining the National Guard or performing jury duty, or filing a claim under the state workers' compensation law.
An implied contract claim can arise, when an employer gives an employee certain assurance, in the absence of a written contract, such as through handbooks, company policies, practices, or actions. Although an agreement has not been recorded in a written contract, it can be reasonably inferred that a binding agreement has transpired between the employer and employee through their mutual actions and behavior.
An implied covenant of good faith can relate to an employer engaging in a bad faith termination, such as terminating an older employee to avoid paying retirement benefits or firing a salesperson before receiving a large commission.
Discrimination
Chapter 21 of the Texas Labor Code governs employment discrimination and creates liability for employers who  fail or refuse to hire a person, discharge a person, or discriminate in any other manner against a person in connection with compensation or the terms, conditions, or privileges of employment because of their disability, race, color, sex, religion, national origin, or age, or limit, segregate, or classify an employee or applicant for employment in a manner that will deprive or tend to deprive the person of any employment opportunity or adversely affect in any other manner the status of an employee.
The law applies to all employers who have 15 or more employees, but companies of any size should take immediate and appropriate corrective action if an employee experiences sexual harassment and an employer knows or should have known the harassment is occurring.
Right to Work Laws
Texas Labor Code § 101.052 establishes that a person cannot be denied employment based on their membership or non-membership in a labor union. Similarly, the employer cannot deny or interfere with an employee's right to organize or to bargain collectively by and through a labor organization.
Wage and Hour Issues
Texas does not have a state-specific minimum wage, so the state largely adopts the federal rate of $7.25 per hour. There are exceptions for tipped employees.
Texas also regulates the employment of minors under 18 years of age. Texas Child labor laws  not only restrict the occupations under which minors may be employed, but also the number of hours and the specific times during which they can work. For example, minors who are 14 or 15 years of age cannot work:
More than eight hours in one day
More than 48 hours in one week
Between 10:00 p.m. and 5:00 a.m. on a day that is followed by a school day, including summer school, if applicable
Between midnight and 5:00 a.m. on a day that is not followed by a school day, including when school is recessed for the summer
Time Off and Leaves of Absence
Time off and leaves of absence for employees in Texas relate to all employers and apply to jury duty leave, court attendance leave, military leave, emergency evacuation leave, voting leave, and political leave. The Family and Medical Leave Act (FMLA) is the federal law that provides employees  take FMLA leave to recuperate from serious health conditions, care for family members with serious health conditions, bond with new children, handle qualifying issues arising out of a family member's military service, or care for family members who have suffered serious injuries during active duty in the military.
Texas Employees can take up to 12 weeks of leave in a 12-month period for the aforementioned reasons. Leave will renew every 12 months so long as an employee continues to meet the eligibility requirements.
Drug Testing
Employers in Texas are allowed to engage in drug testing of their employees and may terminate at-will employees who test positive on random drug tests. In Jennings v. Minco Tech Labs, Inc., 765 S.W.2d 497 (Tex. App. 1989), the Court of Appeals of Texas in Austin affirmed the judgment of a trial court that found it was lawful and enforceable for an employer to test its employees by urinalysis to determine if they had recently consumed illegal drugs.
Call Us Today to Speak with an Austin Employment Law Attorney
While you are setting up your company for business in Texas, you are going to want a team of experienced Austin employment law attorneys on your side to ensure you are complying with all federal and state laws.
Structure Law Group, LLP can help you understand and navigate all of the complex issues that can arise during everyday employment agreements. Call (512) 881-7500 or contact us online to set up a consultation with our Austin employment law attorneys.