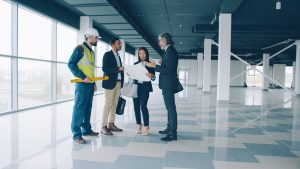 Texas has been one of the nation's hottest commercial real estate markets in recent years. Many companies are looking to relocate to the Lone Star State – especially in tech-friendly areas like Austin. This creates many opportunities for both buyers and sellers and the Texas real estate lawyers at Structure Law Group can help you in this process.
Commercial real estate transactions involve a lot of rules, contracts, and other moving parts. It is not something to be entered into lightly.
Know Your Goals–And Your Finances
The first step for any potential buyer or seller in a Texas commercial real estate deal is to know your goals and objectives. If you are looking to buy, you need to consider your goals for your investment. Do you want an office building to support your own expanding company or are you simply looking to rent out space to other tenants? If the latter, do you have the management expertise in place to oversee day-to-day operations and deal with tenant issues as they arise?
Once you know your goal, the next step is to conduct an honest assessment of your own financial situation. How much of a property can you take on at this time? Hot Texas real estate markets like Austin require a substantial amount of upfront investment and capital. What is your plan for financing a purchase? Is your credit sufficient to secure a commercial mortgage? Will you need other investors or backers?
You then need to determine how to structure a potential purchase. This includes figuring out the right business entity to oversee an acquisition. That in turn requires determining how to best maximize your protection from personal liability while minimizing any potential negative tax consequences.
From a seller's perspective, you need to know the value of your property before even putting it on the market. It is also crucial to perform an updated title search. This can be especially complicated in a state like Texas, where many commercial properties are split into "surface" and "mineral" estates. If you do not own the mineral rights underneath your property, that can have a significant impact on a potential buyer's interests.
Our Texas Commercial Real Estate Attorneys Can Help Make Your Deal a Success
Once you have purchased commercial real estate in Texas, you will need to address a whole different set of management, legal, and regulatory issues. If you do not have prior experience managing commercial property, your first priority should be to hire a qualified commercial property manager. You should also continue to work with a qualified Texas real estate lawyer who can advise you on matters ranging from tenant relations to dealing with federal and state tax obligations on the property.
If you are looking to get the process rolling,  You can call (512) 881-7500 or contact us online to set up a consultation with our Austin business attorneys.