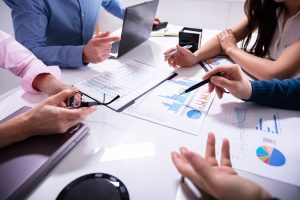 Mergers and acquisitions are an important tool for expanding your business in the competitive field of technology. Unfortunately, hidden debts and liabilities can impose serious financial burdens on an unassuming buyer. Some buyers try to avoid this situation by purchasing assets rather than an entire company. This approach can still leave a buyer assuming debts that are secured by the assets being purchased.  When structuring a transaction as an asset purchase instead of a stock purchase, it is important to understand what debts or other liabilities exist that can become obligations of the asset buyer.
The Benefits of Structuring a Deal as an Asset Purchase Agreement
When one company acquires or merges with another company, the buyer is not only receiving the assets of the target company but also its debts and liabilities if they are not discharged prior to the sale.  The assumed debts and liabilities can even include ones that are unknown to the buyer.  If a buyer does not conduct proper due diligence prior to an acquisition, a buyer may assume liabilities that it is not aware of and courts can deem the buyer to have had "constructive knowledge" of those debts and liabilities.   Constructive knowledge is when one is presumed by law to have knowledge of a fact, regardless of whether or not one has actual knowledge of the fact, since that knowledge can be obtained by the exercise of reasonable care.