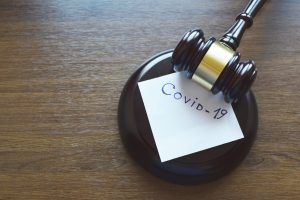 The coronavirus pandemic has caused drastic changes in almost every facet of life in California. For instance, federal, state, and local courts are all facing a major backlog. Many courts were shut down entirely for months, open to only the most urgent cases (such as restraining orders). Now courts have reopened, but many are operating at reduced capacity, meaning they have been making slow progress through the serious backlog of cases. Litigants should be aware of how this backlog will affect their legal claims.
The Incentive to Settle
Parties have the option of settling their claims out of court before trial. Whether they choose to do so depends on a wide range of factors, including:
· The strength of each side's evidence
· The chance of winning at trial
· How far apart the two parties are on settlement negotiations
· The amount of money at stake
· How compelling the witnesses are on the stand
· The length of time it will take to go to trial
Regarding that last point, criminal cases often have priority in the court system because defendants have the right to a speedy trial. With criminal cases given priority scheduling, civil litigants could end up waiting months, or even years, to try cases. This prolonged delay makes settling out of court worth exploring for a faster resolution to any claims.
How Litigation Will Be Different
Many court matters are now being heard by video conferencing. As it is not clear if or when a vaccine will be available, or even when it will be safe to hold public gatherings in a courtroom, video conferencing is likely to continue indefinitely. For most administrative or scheduling hearings, trials via video conference is a perfectly fine system. Challenges present themselves, however, at evidentiary hearings. When a court takes evidence, it must consider the credibility of witnesses. It can be difficult to get a strong impression of a person over a video connection (especially a connection that is weak or unreliable).
Judges are used to taking such evidence, so they might feel comfortable holding these hearings and evaluating the credibility of a witness over video. Juries, on the other hand, might video hearings challenging when faced with this same task. Many jurors have never even seen the inside of a courtroom and are often unfamiliar with the trial process. Dramatically changing the entire trial to a video conference will make it more difficult for jurors to understand and execute their fact-finding role. Attorneys will have a more difficult time presenting a witness and getting the jury to connect with their story. If the jurors aren't in the same room, it will be difficult for lawyers and court officials to determine if they are listening, paying attention, or even still on the call.
The Right Lawyers for Silicon Valley Employers Facing Legal Challenges Due to COVID-19
Like almost every other aspect of life, your legal rights could be impacted by the coronavirus. Consult with the experienced Silicon Valley business lawyers at Structure Law Group to determine the best strategy for settling or litigating your company's legal disputes in this uncertain time. Call (408) 441-7500 or contact us through our website to schedule a consultation.