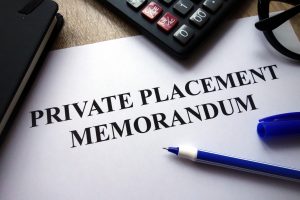 A private placement memorandum (PPM) is used to offer security in a private company to specific groups of qualified investors. It is used as a marketing tool to provide information and generate interest, but it also serves to meet the requirements of SEC regulations. It is therefore important to be sure that your company's PPM is reviewed by an experienced investment attorney. An incomplete or vague PPM can expose your business to liability or SEC fines. While investment bankers usually prepare these memos, they may not be qualified to provide legal advice. A small investment of attorney's fees now could save your business significant fines, penalties, and legal fees later on.
United States Investors Versus Overseas Investors
Regulation S of the Securities Act of 1933 allows private securities offerings to be made to foreign investors. These offers can, however, bring up other complicated legal issues. For example: if the offer is made directly to foreign investors in another country, the offeror could be subject to that country's securities laws and regulations.
There is likely to be more scrutiny of the securities filings to ensure that foreign investors were given adequate opportunity to fully understand the offer, as well as all its financial and legal implications. Some offers avoid this problem by requiring foreign investors to create an LLC in the United States under which to purchase the securities.
The LLC is treated as an American company, and foreign rules do not apply to the transaction. It is vital that companies offering securities to foreign investors seek legal advice about this complicated legal situation. Whether you are intentionally soliciting foreign investors or a foreign investor seeks the opportunity out, your company could still face liability for a PPM and other securities documents that do not meet all applicable legal standards.
Passive Investors Versus Active Investors
Both passive and active investors are entitled to the information provided in a PPM. In many ways, passive investors rely more heavily on this information because they are less involved with the actual management of the investment than an active investor is. This reliance can increase the liability an offering company faces for a PPM that is ambiguous, incomplete, misleading, or open to interpretation. Use particular caution when preparing any securities materials to be prepared for passive investors. While a PPM is not always required for qualified "angel" investors, it can be a good source of legal protection. Be sure to consult with your securities lawyer about the right types of documents for your company's particular securities offering.
Call Us Today to Speak with a California Business Attorney
There are many ways a company can face liability in the process of making a securities offering. Let the experienced securities lawyers at Structure Law Group prepare your business for a successful offering with comprehensive legal protection. Call (408) 441-7500 or contact us online to schedule a consultation. We have helped many business owners protect their assets throughout the funding process, and we can help you, too. With a comprehensive legal strategy, your business and its assets can be protected for years to come.