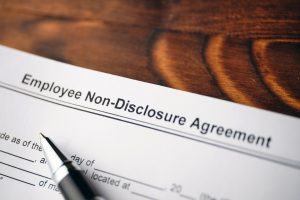 Most businesses in California have confidential and valuable information to protect. Ensuring its protection is often a vital priority. In the ordinary course of business, companies will enter into numerous consulting agreements, service agreements and strategic alliances. These agreements are best made with the advice of a Los Angeles employment attorney who can help protect proprietary information by drafting enforceable non-disclosure agreements.
NDAs and best practices
The proper use of NDAs and noncompete clauses is to protect your company's valuable proprietary information. NDAs can be used to safeguard trade secrets, and this is their preferred mode of operation. Nonetheless, if your company wants to protect trade secrets, you must show that you made some effort to protect those secrets. Informing hires that they will have access to proprietary trade secrets and signing an agreement not to divulge those trade secrets makes the effort enforceable and shows your company took measures to protect their intellectual property.
Further, NDAs are important for protecting all confidential information—not exclusively trade secrets. Any vulnerable information that your company needs to protect should be protected via an NDA signed by key employees.
Employees can claim that they didn't understand the terms of the NDA, so you will want to get everything in writing, allow them enough time to read and understand the agreement, and ensure that they are reminded of their obligations periodically, and especially upon leaving the company.
The scope of your NDA
A non-disclosure agreement is a contract signed by an employee at the behest of their employer. For the contract to be enforceable, the scope must not be overly broad and it must not violate any federal laws on whistleblower protections or employment rights. Companies get into trouble when they draft porous NDAs and expect the courts to enforce provisions that are clearly unenforceable under federal law. The provisions should be directly tailored to protect information that could expose your company to financial loss.
When should my employees sign an NDA?
An NDA should be signed at the time of hire. However, if you forgot, you have a problem. Depending on your jurisdiction, you may not be able to demand the NDA be signed without the offer of a new position or raise. Ultimately, employees who have access to confidential information should be required to sign NDAs to avoid potential financial loss resulting from their dissemination.
Lawyers who review NDA contracts can ensure that the language of the NDA isn't overly broad and does not conflict with federal or state regulations concerning the scope and purpose of NDAs.
Employment Attorney Los Angeles
The Los Angeles employment attorneys at Structure Law Group, LLP can help your company draft actionable non-disclosure agreements that prevent the loss of valuable trade secrets or other sensitive information. You can call our business attorneys at (408) 441-7500 in Silicon Valley, (310) 818-7500 in Los Angeles, or (512) 881-7500 in Austin, Texas or you can contact us online and we can begin protecting your interests today.