Hiring employees can be exciting for a business owner though it comes with many legal responsibilities and requirements. You must report your new hires to the state, set up a payroll system, comply with tax and immigration laws, and more. With so many requirements, the last thing you may want to do is anything that is not expressly required by law.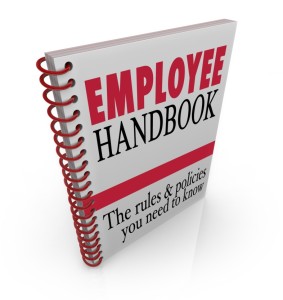 One optional step that can be extremely important, however, is developing and regularly updating an employee handbook. Following are some reasons that a carefully drafted employee handbook can help you to avoid legal conflicts with employees.
Avoid employee miscommunication
Even if you believe you have a clear and open line of communication with your employees, it is easy to give different information to different employees. Even the slightest discrepancy can lead an employee to allege you are applying policies in an inconsistent or unfair manner. If you have clear written policies published in a handbook, every employee will read the same thing and the possibilities of misunderstandings and legal conflicts will decrease.
You can set out clear employee policies
Speaking of clear policies, it is important for all employers to have consistent policies set out so that they can apply them fairly to every employee. Developing a handbook will require you to sit down and formulate policies on many different matters. Such policies can address the following:
Benefits offerings
Expectations for productivity and quality
Expectations for attendance
Sick leave and vacation procedures
Anti-discrimination and anti-harassment
Procedures for complaints or grievances
If an employee was notified of your policies in advance, they will not be able to claim they were unaware of a policy or procedure.
 Evidence in a legal conflict
Even with a well-drafted employee handbook, there is still a chance that legal conflicts may arise. However, your handbook can serve as important evidence that you notified employees of policies and that your actions were in line with those policies. This can help to resolve legal conflicts in the early stages and hopefully avoid the need for any formal litigation.
Consult a qualified San Jose business attorney regarding your employee handbook today
While developing an employee handbook may not be at the top of your priority list as a business owner, it is highly important in avoiding various types of litigation involving your employees. Even the smallest businesses can experience internal conflicts and you want to make sure your communications and policies to employees are clear and neutral to protect you from liability. The experienced business lawyers at Structure Law Group, LLP in San Jose understand how to protect you from litigation and represent you should a legal claim arise. We handle a wide range of business matters, so please call today at 408-441-7500 for more information.