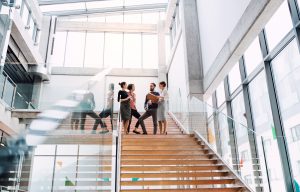 In September 2020, California Gov. Gavin Newsom signed into law Assembly Bill 979, also known as AB 979, in an effort to increase the diversity of the board of directors of publicly traded corporations headquartered in California. Corporations that meet the criteria must have at least one director from an underrepresented community by the end of this year.
In addition, the new law imposes strict reporting requirements to ensure that publicly traded companies comply with AB 979 and other diversity laws.
What is Assembly Bill 979?
On September 30, 2020, Gov. Newsom signed AB 979 into law. The new law requires every publicly traded corporation based in California to increase the diversity of the board of directors.
The new law applies to all public companies with:
A principal executive office in California; and
Securities listed on a major U.S. stock exchange.
Whether or not a company is headquartered in California is determined based on what it says on the company's Annual Report on Form 10-K. Assembly Bill 979 requires all companies that fit the description to have:
At least one director from an underrepresented community on the board of directors by the end of 2021; and
Up to three directors from underrepresented communities by the end of 2022.
For the purposes of AB 979, a director must self-identify as from any of the following underrepresented communities to meet the criteria:
Gay, lesbian, transgender, or bisexual
Black or African American
Asian
Hispanic or Latino
Pacific Islander
Native American, Alaska Native, or Native Hawaiian
How Many Directors from Underrepresented Communities Should Your Company Have?
The mandated number of directors on the board of directors from underrepresented communities depends on your current number of directors. By the end of 2022, your company must have at least:
Three directors from underrepresented communities if your company has nine or more directors;
Two directors from underrepresented communities if your corporation has from five to eight directors; and
One director from underrepresented communities if your company has four or fewer directors.
Compliance with AB 979 will be monitored through the timely filing of board member information each year. Covered companies must submit such reports to the California Secretary of State.
A covered company is compliant with AB 979 if they replace its current directors or increase the number of directors on its board of directors to include the required number of people from underrepresented communities.
What Are the Penalties for Failure to Comply with AB 979?
California law imposes harsh penalties upon covered companies that fail to comply with this new law. Those who do not comply with AB 979 are subject to:
Up to $100,000 for the first violation; or
$300,000 for a second and each subsequent violation.
The number of violations corresponds with the number of director seats required to be filled by directors from underrepresented communities. If a covered corporation fails to comply with the reporting requirements, it can face a $100,000 penalty.
If your company is covered by AB 979, you might want to consider speaking with a lawyer to discuss everything you need to know about compliance with the new law. Schedule a case review with our LA corporate attorneys at Structure Law Group by calling (310) 818-7500 or contact us online.