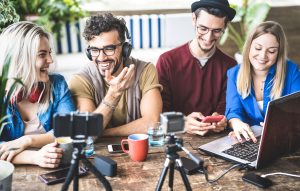 California business owners know that social media marketing is the way to reach today's consumers. Many businesses have sought to and built successful relationships with social media influencers for effective content creation. However, there are legal issues that can arise in such business relationships. The Los Angeles business lawyers at Structure Law Group can help you prevent problems in the following areas:
Written Contracts
Some influencers have pre-printed contracts that they use as a standard for all transactions while others expect the business owner to take the lead in drafting contract terms. In either event, it is imperative that business owners carefully consider all the legal implications of a commission/commissioned work or contractual relationship of this type. Many contractual relationship problems can be prevented with unambiguous terms written into an enforceable legal contract. Here is just a small list of the terms that should be considered when entering into this type of contractual relationship:
Delivery date;
Whether the influencer will be expected to post and/or repost the content (either on their own channels or the company's channels);
Specific details of the content to be delivered;
Intellectual property rights; and
Structure of compensation (per delivery, per post, etc.)
Intellectual Property
Any content created for social media or marketing campaigns can be subject to intellectual property laws. It is important for both the content creator and the commissioning business to carefully spell out all aspects of intellectual property ownership over the commissioned content. Images, videos and text captions can all be licensed for specific uses. Each of these can be licensed separately as well. Most business owners will likely want to retain full ownership of all intellectual property that is created for the business. In this case, it is crucial that the business carefully spells out the terms of ownership in a written and enforceable contract. The contract should also clearly limit the creator's ability to reuse content, recycle aspects of the content, or otherwise resell the unique content that has been created for the commissioning business.
Compensation
Influencing and content creation are still a relatively new area of marketing. In many cases, there may not yet be an "industry standard" for pay scale. There might not even be a standard for how compensation is to be structured. It is important to get some sense of what other influencers are charging for content creation before entering negotiations. If you have no comparable sales to refer to, the creator is able to set any price they may choose. Have a clear sense of what your business is willing to pay and how you would like payment to be structured before entering negotiations. If the content creator has a standard pay scale, be sure to refer to it before negotiating compensation for your specific project.
Call Us Today to Speak with a Los Angeles Business Lawyer
The experienced Los Angeles business lawyers at Structure Law Group have helped many business owners negotiate marketing contracts. Old legal principles apply to new methods of content creation, and we are here to help your business bridge the gap. Call (310) 818-7500 to schedule a consultation or contact us online.