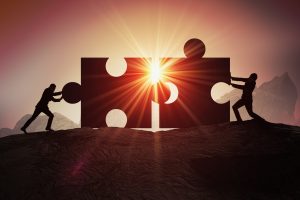 Perhaps more so than any other kind of business structure, a partnership is heavily reliant upon the personal relationships among the partners. If those relationships are good, the partnership has a much better chance to function smoothly. If not, the personal nature of partnerships generally means that rocky personal relationships will lead to a rocky business relationship. All too often, partners join up based on prior personal relationships that were good, only to find they did not consider business philosophies before forming the partnership. Business differences can lead to personal differences, making it that much more unlikely that the partnership's problems can be worked out.
Start Early to Avoid Partnership Disputes
Partnerships often are formed by people working in the same industry or friends who develop an idea together. They are common in the practice of law, as well as in a number of different small businesses. Partnerships are frequently a few individuals joining together to start a business. There are steps they should take to minimize the possibility of disputes. These steps include:
From the beginning, have a signed partnership agreement. You absolutely must have a written agreement before you start investing significant money into the partnership. That agreement should lay out—among many other thing—your role, the other's role, and how compensation will be determined.
And to determine what those many other things are, you should check with a qualified lawyer who can help you avoid the pitfalls. An online, boilerplate agreement almost undoubtedly will not cover your unique situation. Your agreement should address worst-case situations that you consider unlikely, but that could happen, such as whether you could be ousted by other partners, how investments by founders could change your share of equity in the partnership, divisions of the partnership in the event of dissolution, and mechanisms for resolving disputes between partners.
If you and your prospective partners can't reach a mutually satisfactory written partnership agreement, be prepared to walk away. No deal is better than a bad deal.
If You're Already in a Partnership Dispute, Work to Resolve it But Keep an Eye on the Door
The most common partnership disputes involve money. These often result from failure to provide a clear agreement from the beginning on the allocation of partnership money. It is critical to agree on ownership shares, salaries, annual profit disbursements, and the kinds of partner approvals needed for expenditures. If you did not execute a written agreement before your dispute arose, now is the only time to hash out an agreement for going forward.
Sometimes, partners will disagree about business direction and decision-making.  Be prepared to have a real discussion with your partner or partners to work out how these issues should be handled in the future. Options to resolve disputes could include buying out a partner, reaching a written partnership agreement that addresses the disputes, or bringing in a mediator.
If You Are in a Dispute With Your Business Partners, Consult the Silicon Valley Business Attorneys of Structure Law Group to Discuss Your Options
If you are contemplating entering a partnership or are involved in a dispute with your business partners, you need to know what options are available to you. Solutions are out there, but you should seek the advice of the Silicon Valley business attorneys of Structure Law Group at 408-441-7500 or through our online contact form.