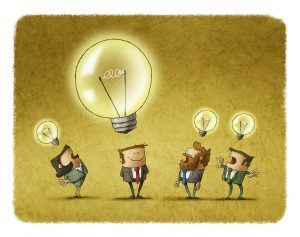 Intellectual property is a valuable asset for a business. When a company licenses its IP out to other businesses, it can gain a competitive advantage and also reap the benefits of a lucrative, passive revenue stream.
When dealing with IP, most business owners immediately think of patents.  Patents cover inventions including processes, machines, compositions of matter, designs, and plants.  However, patents are only one type of valuable IP.  There are other types of intellectual property that can be licensed out to increase your business's revenue.  These include:
Trademarks, which protect company or product names, as well as corporate logos, slogans, and other promotional materials; and
Copyrights, which protect the written expression of your ideas, including in advertising and other written materials your company creates.
Licensing the use of your IP, especially patents, can provide a significant source of income for your company. However, you must take steps to protect your company from diluting the value of its intellectual property.
How Can I Protect Myself When Licensing My Intellectual Property?
When you license some of your company's intellectual property, you are, in essence, giving another business permission to use a portion of your company's assets. You need to be sure that, in doing so, you are doing what is best for your company. Using a boilerplate license form is rarely going to fully account for your company's needs in the transaction. For example, you could easily fail to properly protect your ownership of the intellectual property.
Here are some suggested actions you should take before you license your IP out:
Investigate your intellectual property:

At the outset, ensure that you own the IP that you want to license out. For example, are there written agreements with your employees and independent contractors that assign all rights and ownership in the IP to the company?  Verify that there is a clear chain of title, or history of ownership, as well as supporting documentation.  You want to be fully informed about any possible defects in the chain of title or encumbrances to the IP.
Also, determine what your IP is truly worth and understand the market potential for your IP. These pieces of information will help you better understand how to best structure the license.

Investigate your potential licensee:

You want to obtain revenue from licensing your IP, but if you are using the IP as well, then you don't want to hurt your own market. Without proper due diligence, it could be difficult to know whether your licensee could impact your presence in the market.
Look for a licensee with a proven business history. If your licensee can maximize the IP, then you can maximize your potential revenue.  However, if your licensee can't make the most of the IP, then you lose out, too.
Finally, remember that an IP license can be a long-term relationship. It is important to make sure that your licensee is a company that you want to work with.

Place boundaries on the license:

Don't give your licensee free rein to use your IP however it chooses. Be sure to set limits that prevent your licensee from hurting your market or benefiting from your IP out of proportion to your benefits from the license. Always make sure you are charging an adequate royalty, and be very wary of granting an exclusive license.
If you have Intellectual Property that you want to License, you should consult the California IP Attorneys of Structure Law Group to Discuss Your Options
If you are hoping to monetize your intellectual property through licensing, then you need to know what options are available to you. For answers, consult the California IP attorneys of Structure Law Group at 408-441-7500 or through our online contact form.