When you enter a contract with a provider, a client, or another business setting forth the terms of your business deal, you expect the other party to abide by the terms of the contract. If the other party fails to adhere to the terms of your business agreement, it can cost you time and money and can be infuriating, especially if you have performed your obligations under the contract or the breach of contract costs you money or future business. Business owners harmed by another party's breach of contract often want to immediately march into court and file a lawsuit against the breaching party. However, this is often not the best or most advantageous course of action and often may even constituted a breach of contract by you. If you believe that a contract has been breached, consider promptly consulting with a qualified attorney to evaluate the contract and assess rights and legal options.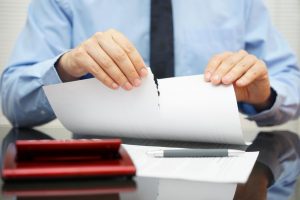 Have Your Attorney Negotiate with the Other Party
Often, a party may not realize that they have violated or are not in compliance with the terms of a contract and may not understand the potential liability they face for having breached or being in non-compliance with the agreement. Many times these issues can be remedied, putting the aggrieved party in a much stronger legal and negotiating position. It may then make sense for your attorney to reach out to the other party to attempt to resolve the dispute prior to commencing a lawsuit.