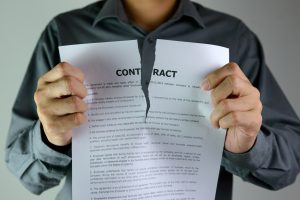 Contracts are essential to any business deal. No matter how close the parties and no matter how clearly the terms are spelled out, there is always a possibility of the other party breaching the contract. Whether a contract is with a vendor, another business, an employee, or any other party, a breach can cause financial harm to your company.
Fortunately, a contract should also dictate your rights and options to seek legal remedies in the event of a breach. Our experienced business and contract attorneys can help you through each step of this process to ensure the matter is resolved as efficiently and favorably as possible.
Talk to the other party. Sometimes, a party to a contract may not even realize they are in breach of the agreement. If the breach involves non-payment, there may be ways to agree on a payment plan or another arrangement to fulfill the contract without taking legal action. It is always a good idea to speak with a party – or have your lawyer do so – to explore options to resolve the issue.