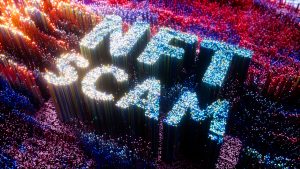 Non-fungible tokens (NFTs) are quickly becoming one of the most popular digital assets online. An NFT is typically a unique piece of digital artwork that belongs exclusively to a single owner, with a blockchain-based digital ledger being used to record ownership. The NFT market surpassed $40 billion in 2021 and continues to grow in 2022. Unfortunately, as with any new technology, there are scammers who try to take advantage of this emerging market. If you are not certain about the legitimacy of a project, you can protect yourself and your business by getting legal advice about any digital asset you're seeking to purchase.  Below are some examples of common NFT scams common in 2022.
1. Fake Websites and Social Media Accounts
Some scammers are able to replicate the website or social media channel of a legitimate NFT business. Often, these replicas are incredibly convincing, so it is important to use common sense security precautions before sending your crypto to buy an NFT or providing a website with any payment information. Check the website URL and verify it on the NFT marketplace. Confirm that social media channels are verified or are recognized on the company's legitimate website. Look for security protection through antivirus software and other security protections on your network.