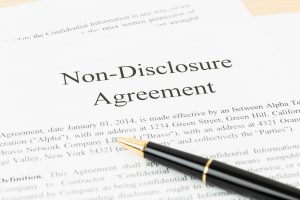 California is one of the most innovative and creative job markets in the world. Every year, advances in a wide variety of industries reach consumers as a direct result of work done by California employees. Fashion, entertainment, technology – these are just a few of the many industries which develop cutting-edge consumer goods in California. Employers can protect their valuable intellectual property in this creative and fast-paced market by making sure to have their employees sign a non-disclosure agreement. With strategic employment agreements, such as non-disclosure agreements, employers can create legally enforceable protections for their products, designs, developments, and other intellectual property.
What is Intellectual Property?
Intellectual property is a broad term which applies to creations of the mind. It can apply to artistic works, such a manuscripts or songs. It can apply to branding, such as logos, colors, and package designs. It can also apply to designs for inventions and consumer goods. All of these types of intellectual property have value, which is owned by an employer who hired a worker to create them. In some cases, this intellectual property can be a highly valuable asset. Employers should seek out an experienced California Employment Attorney to help ensure they have the correct strategic employment agreements to take precautions to protect their intellectual property.