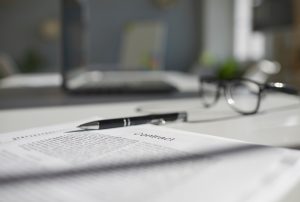 Business litigation is a major expense for many California entrepreneurs. You can save your business time and money by preventing contractual disputes. The California business litigation attorneys at Structure Law Group provide proactive legal advice to prevent contractual disputes whenever possible. Having your business contracts reviewed by an attorney is an important investment that can pay dividends in the long run.
How Business Contracts Affect Every Area of Your Business
You might not realize just how many areas of your business are affected by contracts. Your customers, vendors, and employees can all subject your business to liability in contractual disputes.
Customer Contracts
Customer contracts can be among the most costly of all business liabilities. Even when your business is on the right side of a dispute, your business might still suffer negative publicity from the angry customer. The best way to prevent such disputes is with a clear, unambiguous contract that clearly states each party's obligations. This practice sets clear expectations with the customer and gives the business enforceable legal rights.
Vendor Contracts
A California business litigation lawyer can also prevent contractual disputes with your company's vendors. Most businesses spend large sums of money every year on goods and services that must be provided by outside businesses. The total amount of these goods and services is significant, and so is the importance of a good relationship with trusted suppliers. Having a business lawyer review your vendor contracts can help prevent disputes and maintain the trusted partnerships that keep your business running efficiently.
Employee Contracts
Well-drafted employment contracts can help protect business owners from many different types of liability. Wrongful termination claims, wage and hour disputes, and many other employment issues can be avoided with clear terms in your employment contracts. HR professionals are adept at maintaining good employee relations on a daily basis. It is, however, important to have your employment contracts reviewed by an attorney to ensure that they provide your business with the maximum legal protection.
The True Costs of Not Hiring an Attorney
The cost of hiring a business litigation attorney in California might seem high, but the cost pales in comparison to the true costs of not letting a lawyer review your business contracts. Arbitration and mediation are less expensive than litigation, but they still cost a business time and money. Litigation can drag on for years. And whatever dispute resolution process you use, your business is still exposed to bad customer reviews, negative publicity, impaired business relations, and an overall decrease in goodwill as a result of contractual disputes. A small investment in attorney fees to review a contract can prevent costly disputes in the future – disputes that force many businesses to stop operating entirely.
Experienced California Business Litigation Lawyers for All Legal Disputes
The experienced California business litigation lawyers at Structure Law Group have years of experience drafting and reviewing all types of business contracts. We serve business owners across many industries throughout California. Call (408) 441-7500 to schedule a consultation or contact us online.