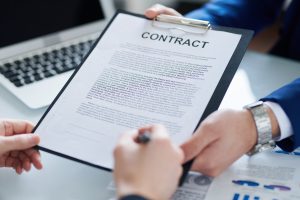 Drafting contracts that properly protect your legal interests requires training, a unique skillset, and years of experience as a business attorney.  Contracts that are not drafted by experienced counsel often fail to provide adequate protections to the parties involved.  For example, contracts prepared by business people that are not attorneys often contain key terms that are vague or are missing key legal provisions and fail to offer business owners sufficient legal protection. A well drafted contract can provide a business owner predictability and will save significant time and money by avoiding pitfalls that can be a significant burden on a company.
4 Reasons Why You Shouldn't Draft Your Own Business Contracts
The Agreement May Not Reflect Your Intentions. Although a form contract purchased online might look enticing, it may very well fail to meet your specific needs.  You might not properly understand its provisions, legalese, or legal terms of art. Lengthy terms in a form contract can be confusing to the untrained reader and can contain terms that are dangerous to include in your specific situation. They can address complex legal theories that are best understood by an experienced attorney.  Ultimately, using a form contract without individualized legal advice can lead to your business being bound to legal provisions that you never intended.