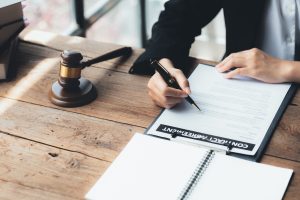 There are many risks involved with entering into any contract. Business litigation costs time and money that interferes with efficient business operations. The best way to mitigate the risk of a business contract is to hire an experienced Los Angeles business attorney to draft your contract with as much protection as possible. At Structure Law Group, our skilled Los Angeles business litigation lawyers know how to prevent disputes in the drafting phase, negotiate dispute resolution during the contract performance, and litigate disputes in court when necessary.
Financial Protections
Some contract provisions provide financial protection. Insurance requirements, for example, can provide financial security against the risk of loss. Los Angeles business owners can also create financial protection with a liquidated damages clause. This contract provision imposes a set monetary fee, that a breaching party is required to pay in the event that they breach the contract. It is not designed to be a penalty, so courts will usually not enforce liquidated damages provisions that are not closely tailored to the party's actual financial losses. But setting the amount of these financial losses ahead of time provides one party with financial security in the event that the other party breaches the contract. It also sets a financial incentive to encourage both parties to comply with the contract.