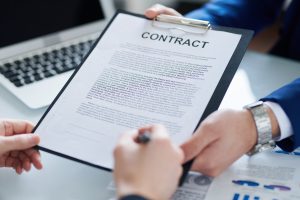 Drafting contracts that properly protect your legal interests requires training, a unique skillset, and years of experience as a business attorney.  Contracts that are not drafted by experienced counsel often fail to provide adequate protections to the parties involved.  For example, contracts prepared by business people that are not attorneys often contain key terms that are vague or are missing key legal provisions and fail to offer business owners sufficient legal protection. A well drafted contract can provide a business owner predictability and will save significant time and money by avoiding pitfalls that can be a significant burden on a company.
4 Reasons Why You Shouldn't Draft Your Own Business Contracts
The Agreement May Not Reflect Your Intentions. Although a form contract purchased online might look enticing, it may very well fail to meet your specific needs.  You might not properly understand its provisions, legalese, or legal terms of art. Lengthy terms in a form contract can be confusing to the untrained reader and can contain terms that are dangerous to include in your specific situation. They can address complex legal theories that are best understood by an experienced attorney.  Ultimately, using a form contract without individualized legal advice can lead to your business being bound to legal provisions that you never intended.
Your contract might not be enforceable. Just because two parties agree to something, that does not mean that the agreement will be enforced by a court of law, even if the contract is in writing and signed by both parties.  Additionally, ambiguous terms of a contract could be interpreted in a myriad of different ways by a court of law, and the prevailing interpretation might be to your disadvantage.  Other issues may also render a contract unenforceable. For example, if the other party is a business, the person signing the contract might not have the authority to act on behalf of the business. If he or she does not have the authority to bind the company to the contract, a judge cannot enforce it against that company.
You might not be protecting your legal interests. There are many legal interests at stake in a business contract. Both your business and you personally could be put at risk by a poorly written contract. Only an experienced business lawyer will know exactly what interests are at stake and how best to protect them.
You might be stuck with default provisions of law. If an important term is not addressed in the contract, default provisions of law will likely apply. For example: who bears the risk of loss if goods are destroyed before they are received by the purchasing company? Without a clear contract provision, default rules will apply, and you could be stuck paying for something that you never expected to be your responsibility.
Contact Structure Law Group Today to Schedule a Consultation with a San Jose Business Lawyer
Business contracts that aren't drafted properly will not protect your interests to the maximum extent provided by law. Moreover, disputes over an ambiguous contract term can lead to unnecessary time and costs litigating the matter in court. Poorly written contracts can be an added burden to your business and to your bottom line. Only an experienced business lawyer can draft effective contracts that proactively preempt potential legal problems. If you need a properly drafted business contract, we are here to help.  Call Structure Law Group at (408) 441-7500 or contact us online.