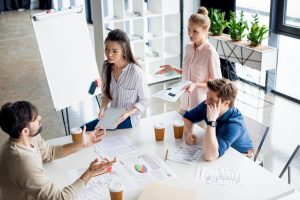 Costly litigation has caused many small companies to go out of business. Often, larger companies know this and try to bully a smaller company with the threat of litigation. Small business owners do not have to be overwhelmed by the threat of litigation. With an effective legal strategy, your business can implement policies and procedures that will drastically reduce the odds of litigation. Learn more about the different areas of litigation small business owners must be aware of – and how the experienced litigators at Structure Law Group can help protect your business from liability.
Employment Litigation
Employees can sue their employers for a variety of reasons. Federal and state laws protect employees from discrimination, harassment, and other prohibited activities in the workplace. Employees may also litigate contractual disputes. (This is particularly common in Silicon Valley, where employment agreements cover intellectual property, confidentiality agreements, stock options, and other complex legal issues.) Our lawyers protect employers by drafting comprehensive employment agreements. We also work to develop effective workplace policies that will reduce the chances of a lawsuit for discrimination, harassment, union-busting, or other prohibited workplace activities.